Recipes
There are lots of fabulous prawn recipes out there. Here are a couple of our favourites:
Simple Garlic Prawns
This is such a simple way to enjoy the fabulous taste of prawns - its ready in minutes and easy to prepare.
Ingredients (entree serves 4)
400g Shark Bay King Prawns (peeled and deveined)
4 Tablespoons Olive oil
2 garlic cloves, crushed
Method
Heat oil over medium heat
Toss in prawns, season with salt and pepper. Cook for 1 min.
Turn prawns, season with salt and pepper. Cook for 1 min.
Remove prawns from pan
Sautee crushed garlic in remaining oil for 1 min.
Add prawns back to pan, coat in oil
Serve immediately
Simple Prawn Linguini
Use this classic dish to impress your friends and family!
Ingredients (serves 6 entrée, 4 main course)
400g dried linguine pasta
80mls (1/3 cup) olive oil
3 garlic cloves, crushed
2 fresh small red chillies, deseeded, finely chopped
1 kg (about 24 medium) green king prawns, peeled, tails left intact, deveined
1/4 cup chopped fresh continental parsley
Salt & ground black pepper, to taste
Method
Cook the pasta in a large saucepan of salted boiling water, following packet directions, until al dente. Drain.
Meanwhile, heat the olive oil in a medium saucepan over medium-low heat. Add the garlic and chillies and cook for 2 minutes or until aromatic. Increase heat to medium, add the prawns and cook for a further 3-5 minutes or until the prawns curl, change colour and are just cooked through.
Stir in the parsley and season with salt and pepper. Add the drained pasta to the sauce and toss to combine. Serve immediately.
Classic Shark Bay Wild Tiger Prawn Cocktail
Ingredients (serves 6 - 8)
5 litres water
4 bay leaves
black peppercorns, pinch
50ml white wine vinegar
100ml white wineI lemon, halved
20 Shark Bay wild tiger prawns
8 dollops lime Marie rose
1 iceberg lettuce, shredded
1 medium ripe tomato, cut into small cubes

Lime Marie rose
3 egg yolks
400ml vegetable oil
1 tbsp Dijon mustard
100ml tomato sauce
50ml Worcestershire sauce
10ml Tabasco
25ml brandy
2 limes, zest and juice
Method
Bring water, bay leaves, peppercorns, vinegar, white wine and lemon to the boil. Add shark Bay wild tiger prawns and cool for 3 minutes. Refresh in iced water.
When chilled, peel prawns leaving only tail on flesh.
Add sauce to individual glasses, top with sliced lettuce, tomato and prawns.
To make the lime Marie rose, whisk egg yolks with oil to form mayonnaise.
Add the rest of the ingredients gradually and season to taste.
Refrigerate and store until required.
For more inspiration, our friends at the Sydney Fish Markets have some wonderful recipes for prawns. Try our Shark Bay Prawns in the following delicious recipes:
Prawn Salad with Chilli, Ginger and Watercress
Prawns with Zucchini, Tomato and Mint Salsa
Stir Fried Prawns with Red Capsicum and Broccolini
Laska Lemak (Spicy Noodle Soup with Prawns)
Peter Manifis, Josh Catalano and Don Hancey
Peter Manifis (Incontro restaurant), Phil Bruce (Shark Bay Wild) & Don Hancey (WA Food Ambassador)
Don & Team at The Hyatt
A prawn is a prawn is a prawn !!
well yes
and no
……to someone who thinks about what food they buy , where it comes from, how its produced and managed and the ever important "how does it taste" then Shark Bay Wild prawns ticks all the boxes and the some

…..fished responsibly since the 1960 's in the pristine waters of Western Australia's historical Shark Bay the king and tiger prawns hailing from this region for my mind have no equal.

……as a chef and Western Australian Food Ambassador I am proud to say I only use these prawns in my catering business and whilst price is a factor I firstly go for sustainability then taste and texture .
…..and as a member of the general food buying public I simply love the versatility of Shark Bay Wild prawns.
……..I tend to ensure the prawn is always the hero so keep my recipes and dishes simple, like poached, steamed or boiled prawn cutlets served cold with a lime mayyo, or whole BBQ'd green with lashings of garlic and or chilli….and who doesnt like creamy garlic prawns served over a mound of steamed rice , or prawns wrapped in rice paper with crunchy asian style veg?
…..and the real family favourite a prawn sandwich on wholemeal bread with butter and white pepper.
simply YUMMM

Cheers and Bon Appetite

Don Hancey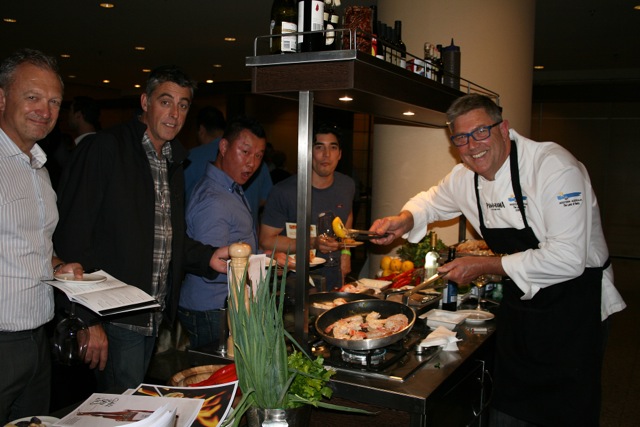 Don at The LB Winexpo