News
WA SIGNATURE DISH WINNER 2015 RECIPE
The recipe for Jerolina Rankin's Gascoyne seafood broth with Shark Bay Wild prawns, WA's Signature Dish winner for 2015, is now available - please click here to download the PDF.
---
AND THE WINNER IS...
Shark Bay prawns have taken the honours at this year's WA's Signature Dish competition. You can read the full story below.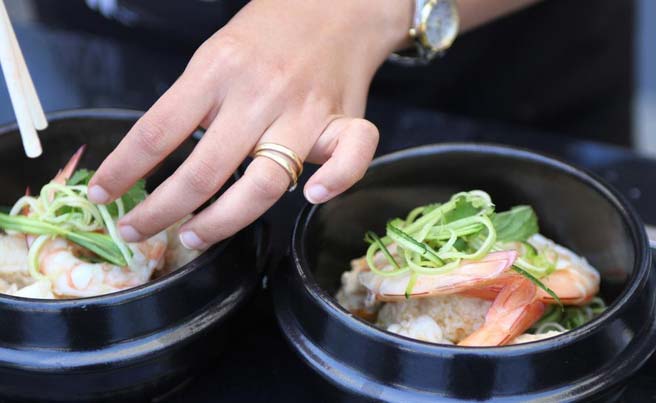 Mum's Prawns Simply the Best
Rob Broadfield, The West Australian, Monday 23rd November 2015
The Margaret River Gourmet Escape Is over for another year with the highlight of yesterday's final day, the crowning of WA's best home cook, decided after an intense cook-off.
The WA's Signature Dish competition, in front of record crowds, is a highlight of the annual foodies calendar and this year's winner, 34-year-old Carnarvon mother-of-two Jerolina Rankin, said she owed the win to her kids.
"They are my hardest critics," Ms Rankin said.
Her dish, a seafood broth with Shark Bay prawns included lemongrass grown in her backyard and locally grown Gascoyne garlic and zucchini. It was judged the best on the day by chefs Shane Osborne and Guillaume Brahini and critic Matt Preston.
The competition, which requires contestants to use produce from their regions, is organised by the State Government's Buy West Eat Best initiative.
Tourism Minister Kim Hames said the event had a "dramatic effect in alerting a world audience to the Bounty of Margaret river and WA".
"You've got guys like Marco Pierre White telling the world about Margaret River and its produce," he said.
"It has put us on the map."
---
Jerolina Rankin
The West Australian, Tuesday 10th November 2015
It's all in the spices for Canarvon-based civil engineer Jerolina Rankin, left with chef Peter Manifis, who draws on her Indonesian heritage to bring out the best in her South East Asian cooking style.
A WA's Signature Dish veteran, she made it to the semi-final last year with a grilled whole snapper and is in the grand final this time round with her Gascoyne seafood broth with Shark Bay Wild prawns.
The dish is based on Penang's quintessential assam laksa, with Rankin using prawn shells and Spanish mackerel bones and skin for the broth that's laced with chilli, galangal, tamarind and belacan, a pungent shrimp paste that's a culinary staple in Malaysian cuisine.
"I've taken the essence of the dish but made it more stylish and refined," she said. "All the flavours are there, but instead of shredded fish I make mackerel mousse and zucchini noodles.
"To me it represents the Gascoyne - from the colours of the region in the red-brown broth to the spices which are like our hot summers and the green strands of zucchini our mild winters. I really enjoy making it and my mentor chef, Peter Manifis, has given me some great tips to refine it even further."
She grew up cooking with her mother and grandmother but said her husband and two children were her go-to food critics now.
"My husband likes the seafood broth; so does my manager at work," she said. "At home, one of our favourites is satay, which I make from scratch and we cook it over wood and charcoal the traditional way," she said.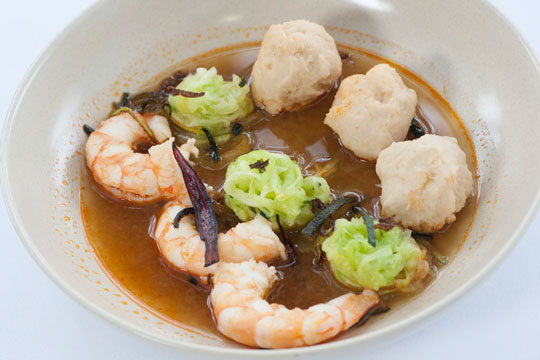 Gascoyne seafood broth with Shark Bay Wild prawns, Jerolina Rankin's 2015 entry for WA's Signature Dish.